Choosing flowers may be the most pleasant of all wedding tasks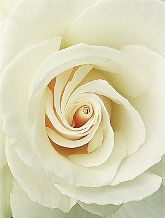 Choosing the flowers for your bouquet is perhaps the most pleasant of all pre-wedding tasks. It's quite likely your ideal bouquet can easily be created, and even improved upon, with the help of a talented florist.
... Clipping photographs from magazines or bringing along a book with pictures of bouquets is an excellent way to make sure the florist understands what you want.
... As you browse through these sources, you might be struck by the variety of bouquets they display. Today's abundant selection reflects every style of wedding bouquet seen over the past five centuries as well as some delightfully modern versions.
... Bridal bouquets began in medieval times as nosegays - small, sweet-smelling clusters carried by medieval brides. The bouquets expanded in size over the centuries, largely to keep pace with ever more extravagant wedding gowns. The nosegay grew to be a larger, full, round bouquet held by a silver horn, called a tussie-mussie. A circle of ferns framed this large mound of flowers, usually white. Finally, this type of bouquet blossomed into the cascade, a stupendous display of dozens of white blooms that draped down almost to the bride's hemline.
... The 1930s ushered in a new wave of bouquet designs. The fashion was Art Deco, and long, slender flowers, or perhaps a single calla lily, complemented the sleek lines of the wedding gowns.
... Bridal bouquets since that time have mirrored the fortunes and trends of the day. Perhaps the most influential period of recent years was the 1970s, with its focus on a natural look. Wildflowers and loosely gathered bouquets fit right in with the more relaxed weddings of that time.
... This freedom of expression can still be seen 20 years later. Rules about wedding bouquets have all but vanished, leaving brides free to design any sort of bouquet they like. Flowers are no longer limited to white or cream, although pale blossoms are often chosen because they fit the spirit of the occasion and don't draw attention from the bride.
... A recent trend is to simply hand-tie a mass of like-colored roses with ribbon so they look graceful yet unpretentious. The simple, just-picked look has been extremely popular for the past several years and its appeal is understandable (an armful of flowers gathered in a loose bouquet is a charming sight). Some brides yearn for a more elaborate look and there are styles to please them, too. Striking cascades of Dendrobium orchids mixed with roses, peonies, gardenias and lilies of the valley.
... Some brides find it hard to resist adding a bit of color to their bouquet. Lilacs and hydrangea are popular choices. Fall weddings seem to inspire even bolder palettes: burgundy roses arranged with pale, peach-colored blooms make for a stunning and very romantic bouquet. Red roses and poinsettias are always popular for holiday weddings.
... A small back-to-the-herbs movement is taking place today, marking a return to the medieval bouquets mentioned earlier. An herb bouquet, which also contains flowers, might include a combination of sage, lemon balm, lavender, rosemary, orchids and twigs. It smells heavenly and will make a wonderful keepsake. Although herbs will never take the place of flowers, for many brides these bouquets offer a sweet alternative to the standard rose-and-lily arrangements.