Renting a limousine is more than just a matter of getting to the church on time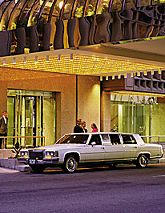 It's not quite as magical as a flying carpet, but renting a limousine is certainly a romantic way to wheel around in style on your wedding day.
... Here are some points to ponder when considering renting your wedding day chariot:
Determine what size vehicle you will need, for example, a six, eight or 10-passenger limousine. Decide if you'll need more than one car.
Plan on spending from $60 to $125 per hour to rent a limousine. Of course, this can vary.
Visit the limousine company and inspect the vehicle you want to rent.
Check the vehicle for cleanliness and special features such as a sunroof, television, telephone and bar. Limousine passengers age 21 and up can legally consume alcohol.
Find out whether the limousine operator has a backup vehicle in case of emergency.
Check out the company's credentials and make inquiries about its driver experience and its safety record.
Verify that the company is adequately insured.