It may be just a rental, but the bridegroom's tuxedo is one crucial element in creating an air of sophistication and formality on your wedding day.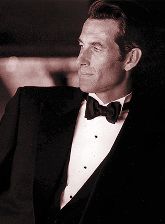 ... "Men's clothes are moving back towards more classic looks and leaner shapes,'' says Rachel Leonard, fashion director for Bride's magazine.
... The traditional three-button coat or tuxedo has replaced more unorthodox clothing for men.
... As a rule, the bridegroom's attire is differentiated from that of the bridegroomsmen, although it may be a simple change such as a special vest.
... Unusual cummerbunds were popular a few seasons back, but the classic black tie and black cummerbund or a colorful vest has superseded them.
... Another look that is waning is the mandarin collar with a jeweled button instead of a tie.